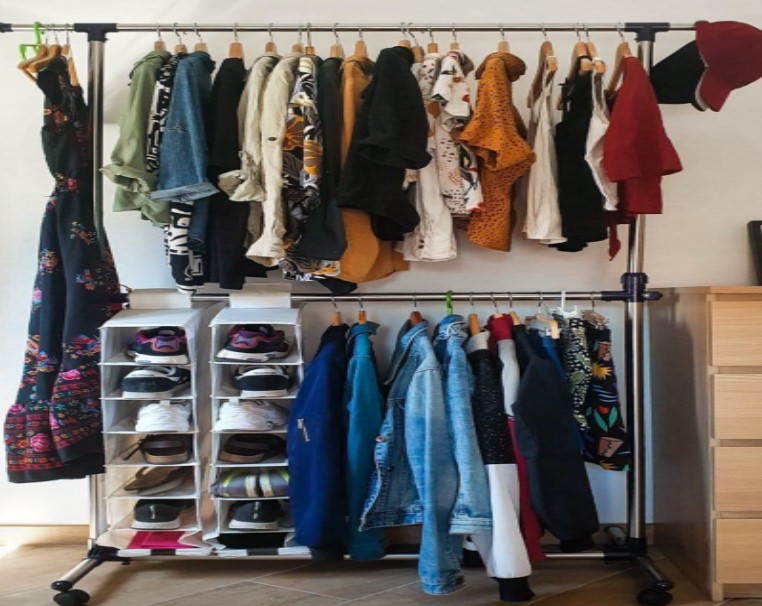 The average UK household spends £58 per month on clothing and footwear according to data from The Office of National Statistics (ONS), roughly 61% lower than the average spend pre-pandemic which stood at £93.60. 
Despite the fact that aggregate retail sales have fully recovered from pre-pandemic levels, the ongoing cost of living crisis has caused people to make fewer purchases.
Thus, even if our overall expenditure has grown from before the epidemic, this is attributable to rising prices rather than a rise in the number of purchases.
Additionally, spending on clothing and shoes was actually down 14% year over year between July and September, as more individuals looked for discounts when they went shopping, according to the most recent Deloitte Consumer Tracker.
Consumers are increasingly looking for methods to stretch their dollars as they continue to struggle financially. As a result, many are turning to social media to find wardrobe hacks.
In light of this, online clothing retailer Chums has provided some of the most popular clothing hacks on Tik Tok designed to make your wardrobe last longer, as well as advice on how to be a savvy buyer.
1. Redyeing your faded favourites – 20.7m views
Clothes will undoubtedly fade over time due to wear and tear, sunshine exposure, and repeated washings. However, Tik Tok users advise re-dying objects rather than throwing them out when they start to look drab. Online, you can purchase hand dye for as little as £3. On anything from trousers to sneakers, re-dying works a treat.
2. Painting over stains – 3m views
You may put acrylic paint to stained clothing to give your worn-out clothes a brand-new look by combining it with fabric softener to make the paint flexible and softer once dry. If you're hesitant to freestyle your design, you can purchase a number of stencils.
3. Tighten loose pants – 703.1m views
This Tik Tok innovation enables you to tighten loose pants using a hidden thread rather than discarding old jeans that have loosened over time or are the incorrect size. Simply cut two little holes with scissors on the inside of the front waistband of your pants. Be careful not to completely cut through the hem to the side that will show when you wear the pants. A shoelace or piece of string should next be threaded through one of the remaining holes and around the hem until it comes out of the opposite hole. This will be simpler if the string is fastened to a hairpin. You can now see both ends of the string and easily pull and tie them together to form a loop. 
4. Learn fundamental sewing techniques – 107.9m views 
You won't have to throw away goods just because they have a missing button or a little tear if you learn some simple clothing repair techniques. Tik Tok offers numerous step-by-step instructions for performing tasks like attaching buttons, applying patches, and mending seams.
5. Expand  your wardrobe for free – 346.2m views 
With a little imagination, you can create numerous outfits using the same clothing without ever having to touch a needle and thread. Why not, for instance, try tying big shirts or t-shirts at the waist for that cropped look throughout the warmer months? Or you may turn a long shirt into a short dress by adding the appropriate accessories. Another technique is to fold the bottom of the garment up and under and fasten the poppers at one shoulder underneath the shoulder strap to transform a bodysuit into a vest top.  
6. Buying in clothing with numerous functions – 1.8m views 
One of the easiest strategies to reduce your clothing costs is to choose flexible pieces. For example, clothing that can be worn up or down is usually a great investment. One such example is chinos. They can be worn down with a nice shirt and jacket for a more formal appearance or dressed up with a t-shirt or sweater for a more casual approach. 
7. Try swishing – 114.6k views 
Exchanging clothing, shoes, or accessories with other people is known as 'Swishing'. Why not plan a clothing swap party with friends and family where everyone displays the garments they are willing to exchange? Without paying a dime, you might update your wardrobe while also getting rid of clothes you no longer used.
Related Posts